Do you use Skype for Business and wonder if you're getting the most out of it?
Skype for Business (also known as SfB, Lync or formerly "OCS") changed the way that many enterprises communicate with each other. It allowed them to enable audio and video calling for their entire workforce at a desktop level with other powerful tools like Presence, Chat/Messaging, Presentation sharing, File Transfer, Scheduling and more.
The Skype for Business platform is so powerful that many businesses use it as a replacement for traditional video conferencing room systems. The reality is that SfB has been developed at a user level and cannot, on its own, offer the best experience in the boardroom.
The best way to maximise the potential of Skype in the meeting room is to combine this powerful software with the capability of a dedicated hardware solution.
The limitations of Skype
While Skype is a powerful and hugely popular platform for video conferencing, it does have its limitations.
Software based solution – as Skype is a software application, the quality of the call is entirely dependent on the processing capability of the laptop or computer running the Skype client.
Restricted to desktop – Skype is a desktop solution, so people may need to crowd around a computer or laptop webcam/microphone and not everyone will be in the frame or heard clearly
Compatibility with external parties – Skype is a proprietary solution, so it doesn't inter-operate with SIP or H.323 standard based video conferencing solutions which are often used by external parties (your clients, partners or customers, for example.)
The benefits of integrating Skype with video hardware
When you integrate Skype for Business with video conferencing hardware, you can bypass these limitations and finally get the most out of the service!
When you integrate SfB with room-based hardware, you can:
Walk into a meeting room and instantly launch a Skype meeting from a touch-screen interface (using tools like the Logitech SmartDock)
Enjoy life-like HD video and crisper audio with dedicated PTZ camera and table or ceiling microphone
Host large video calls (25+ participants) without sacrificing the user's experience
Easily connect your laptop and mobile devices for Data sharing
Optimise your investment by extending the capabilities of Skype into the meeting room
Enjoy simpler connectivity and the ability to connect with external parties who aren't using SfB (using tools like StarLeaf Open Cloud or Lifesize Cloud)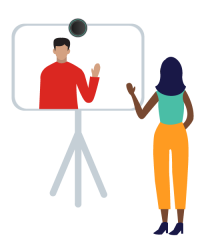 Get Skype hardware in your meeting rooms
If you're ready to get the most out of Skype for Business, our team of video conferencing specialists can help you get started. We supply a range of Skype compatible room solutions from industry leading brands (such as Polycom, Logitech, StarLeaf, AVer and many more.) Contact us for a quote and optimise your meeting space.