With more impending travel restrictions have you thought about what your alternatives are? How you and your company respond to the virus, and the robustness of a risk management strategy will significantly affect the impact on the economy and even your business.
So, how do we prepare for this and similar events in the future? Your contingency plan needs to cover every corner and ensure your risk management strategy will cover the unexpected. Sounds easy right?
Work doesn't have to stop but precautions will need to be taken to protect your colleagues, customers, and even your brand. The government has the power to protect people from infection. As part of this measure if there were to be a mass outbreak they could close schools, put restrictions on public transport and stop large gatherings of people such as events. But, we can take action before anything of this nature has to takes place.
Some travel may be unavoidable when it comes to education, annual conferences and international collaboration. But, if you want to reduce the risk within your organisation, there are plenty of well-acknowledged alternatives already in place today that you can try. You can still participate in your essential meetings, presentations, conferences or events, with some slight modifications.
Meetings and Presentations
Teleconferencing

A simple, secure solution for your verbal communication needs. We offer a range of teleconferencing services. Unassisted Teleconferencing is a cost-effective way to have your regular meetings. Operated Assisted Teleconferencing is essential when attendance and timing are key, let us deliver a seamless, professional approach to your meetings. Learn more about Audio Conferencing >

Video Conferencing

If you are not already doing this, then consider video conferencing for your regular meetings. There is a wide range of solutions out there and the chances are you already have access to this. Learn more about Video Conferencing >

Digital Content Sharing

C-Meeting is our content-sharing platform with HD audio and video capabilities. Learn more about C-Meeting >
Conferences and Events
Webcast Stream

A webcast can have multiple parties join your conference either via the phone or via the web where a presentation can be shared. Resources can be made available for download during the live event and the on-demand. On-demand versions are also available for those who missed the live event or for education and training purposes. Learn more about Webcast >

Virtual Events

It is time to include virtual conferences and events into your communications plans instead of relying on in-person meetings. We have a wide range of options available for your virtual events. Learn more about Virtual Events >
With modern meeting technology, you can manage your Q&As virtually, resources can be made available for download. Talk to us today about solutions for your meetings, town halls, presentations and investor relations.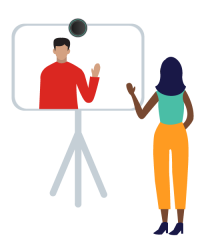 Whatever unique needs your organisation may have, we're certain that we can provide a solution that fits.