1. Consider your size and budget requirements
The first things to consider are:
The size of your meeting space
How many locations you need to connect
How many people need to use it (are you hosting small one-on-one meetings or large video calls with over 20 participants?)
How much money you can spend
You might also need to consider the requirements of your clients or other office locations  – are they using a particular set-up that yours will need to be compatible with?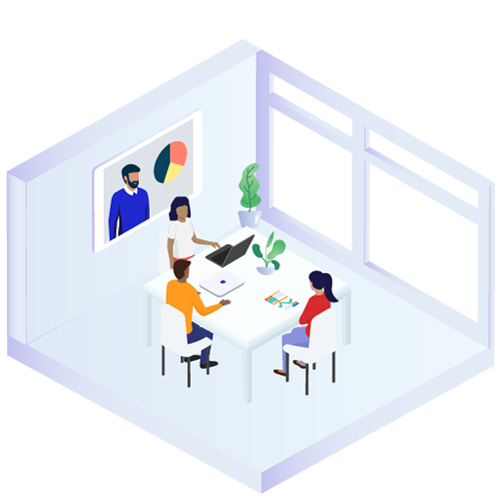 Why room size matters:
The size of your meeting room will determine the kind of camera and audio quality you will need. Getting the right audio pickup range around the room is important, as well as making sure that the camera can cover all areas of the room.
A small huddle room may only need a small plug-and-play unit, while a large board room may need screens, expansion mics and a higher quality camera. Similarly, video conferencing between large numbers of participants will need to be far more robust than connecting small groups of only a few people.
2. Consult with the experts
A video conferencing specialist can help you figure out what you'll need for the size of your project. They can work with you to deliver the best solution for your needs, budget and time restrictions.
Booking a consultation with a video conferencing provider ensures that all the important questions are asked and every aspect of the project is considered. If you don't have a technical team to source, install and support your video conferencing solution, getting expert help is the best way to ensure that the solution you end up with is high quality and suited to your business needs.
A full service video conferencing provider can also help arrange installation, product training and ongoing maintenance and support.
3. Decide on your solution
So you've got expert help and now you're ready to proceed. Usually, quotes will cover 2-3 recommended solutions of various price and complexity. All that's left to do is choose the one that sounds best for you!
An ideal setup is one that is easy to use, delivers HD audio and life-like video. The ideal video conferencing system should also compliment the way your team works, so your meetings have high quality outcomes and work actually gets done.
Timelines are dependent upon the complexity of the project, but you can expect this to take around two weeks from sign-off to installation. If you're unsure whether the hardware you've picked is going to suit your needs, you may also be able to request a free trial.
4. On-board your teams
Once your new video conferencing system is installed, the next step is teaching everyone how to use it!
Training your teams to use your new collaboration products will help everybody get the most out of them. This doesn't just apply to your staff – the IT team may need some briefing so they know how to maintain the system and troubleshoot any issues.
5. Get the right support
Some video hardware comes with warranties included, while others require you to pay for this with ongoing maintenance contracts that will entitle you to part replacements should a piece of hardware fail.
Currently, none of these vendors have Australian-based support.
We recommend our Chorus Call Care support services which entitle you to a team of local video conferencing support specialists to help you get the most from your investment.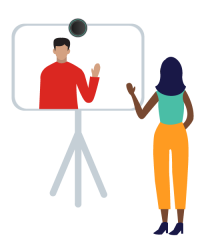 Get Started
If you have a meeting space you'd like to turn into a video room, our video consultancy team can work with you to make it happen. We don't just sell hardware and cloud services; we also help you choose the right setup for your needs and can also arrange installation and ongoing support. Contact us for a consultation.